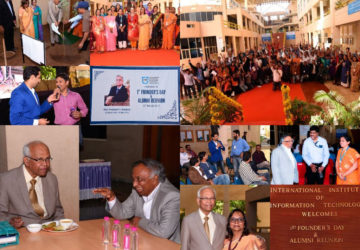 Name of the Event: Founder's Day 2017
Date of the Event: 12th March 2017
Brief Summary:
International Institute of Information Technology (I²IT) Pune celebrated its first Founder's Day over this weekend. The institute was founded by the Late Shri. Pralhad P. Chhabria (Founder Chairman of Finolex Group) in 1999. Over the years, it has proven to be a pinnacle of an engineering institute in the vicinity of Pune.
The event began with the lighting of the traditional lamp and felicitation of the Chief Guest Padma Vibhushan, Dr. R. A. Mashelkar. Ms Amrita Katara & Dr. Samita Moolani Katara delivered the inaugural address and went on to introduce a short film titled "I Remain…" that paid a homage to the Late Shri. Pralhad P. Chhabria.
The event continued until the most anticipated moment when – Padma Vibhushan Dr. R A Mashelkar along with Ms Aruna M. Katara, Mr. Prakash Chhabria and Dr. Vaishali Patil, unveiled the memorial that pays a tribute to the Late Shri. Pralhad P. Chhabria in the presence of almost over 700 members present at the occasion which included team I²IT, ex-staff, family members, well-wishers, alumni, students and other guests.
Shortly after that Dr. R. A. Mashelkar then graced the audience with some kind words about Shri. Pralhad P. Chhabria and the memorial. Furthermore, the President of I²IT, Ms. Aruna M Katara, distributed awards and scholarships to deserving students and wished them luck in their endeavors.
To conclude the ceremony, Dr. R. A. Mashelkar planted a tree in order to signify that great things come from small beginnings much like the great legacy that the Late Shri. Pralhad P. Chhabria left behind.
Film about P. P. Chhabria. "I Remain.."
Event Videos