Hope Foundation in association with the IEEE India Council and Women In Engineering Affinity Group, IEEE Pune Section has instituted the Pralhad  P. Chhabria Awards from the year 2017, in memory of Late Shri Pralhad  P. Chhabria, Founder President, Hope Foundation. These awards applaud academic and professional achievements of young women for their accomplishments in the areas of Science, Engineering and Technology.
Late Shri Pralhad  P. Chhabria always encouraged and  supported education of young women.   He firmly believed that women  have always been  far superior  to men and  have the ability to make  whatever  they get, greater and  providing them with good education in turn ensures that they not only share their knowledge and skills with their family; but harness it for the betterment of the community and the nation.
The awards are listed under the following categories:
Best Outgoing Female Student  (applicable to final year  students  who are  pursuing  their UG degree in Science, Engineering or Technology)
Best Woman Professional  – Early Career (applicable to women  professional who  have  3-7  years  experience  in Science, Engineering or Technology)
Receiving this award  is a personal challenge and  a just competition  among all applicants. It is intended to push young women  to reach  their full potential  and  be the best; for themselves  as well as for those they are associated with. These awards will transform the  lives of young  women  and  can  play  a critical role  in their  personal and  professional development.
Each award  comprises of a prize of Rs.1,25,000/- (Rupees One Lac Twenty Five Thousand Only), a medal  and a citation which is sponsored by Hope Foundation.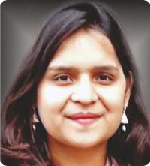 Ms. Jayati  Vijaywargiya has  been  declared the winner for "Best Outgoing Student". She is in the final year of B.Tech (Computer Engineering)  at Mody University, College of Engineering and Technology, Madhya Pradesh.
With consistent academic excellence, Ms Jayati has done her Bachelor Thesis in a research institute, GSI, Darmstadt, Germany. There she built a GUI to analyze  and  calculate  relevant  parameters affected  due  to Quenching  in superconducting material.  The  physical  model   used   for  developing the Quench Calculation Software  was a rod  of Cu+NbTi insulated  by a non- conducting material. She was also part of the GETInvolved 3-month Summer internship there. Also, as part  of the internship at DRDO, she made an object detector and analyser  software on QT. Jayati has 4 research papers that have been selected to be published.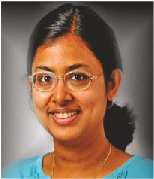 Dr.  Soma   Biswas  has  been   bestowed with the  award   of  "Best  Woman Engineer" (professional in early career). She is currently working as Assistant Professor  in  the  Department of  Electrical  Engineering,  Indian  Institute  of Science (IISc), Bengaluru.
Dr. Soma's primary focus at IISc is on cutting-edge research and teaching. She works in the general area of Computer Vision and  Pattern  Recognition with special focus on surveillance applications and cross-modal retrieval.  She has also  been  involved as the Principal Investigator  for many  Government and private projects  which are  of national interest and  has  also mentored a few start-ups in her area of interest.
She holds Ph.D. in Electrical Engineering  from University of Maryland,  USA. Dr. Soma has to her credit 2 patents and has published 36 research papers, of which 29 are in international journals and 7 are national journals.