I²IT  has inked a Memorandum of Understanding (MoU) with WiselyWise Pte Ltd., a Singapore based company for Artificial Intelligence (AI), Machine Learning (ML) & Block Chain technology based online education services to  students and faculty members.
For more information about WiselyWise logon to:
https://ai.wiselywise.com/
https://wiselywise.com/
With this MoU,  I²IT   have become a nodal center for WiselyWise online certification courses in India.  I²IT is officially launching Artificial Intelligence Lab in association with Wisely Wise on 30 August 2019.
Webinar on Artificial Intelligence by Mr. Chandra Kumar, CEO, WiselyWise, Singapore on 01 May @ 10.00 am.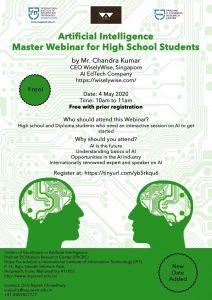 This year,  I²IT & WiselyWise are jointly offering 2 courses namely,
Conversational AI – Foundation  –  15 August 2019 (Joint course developed by WiselyWise and Amazon Alexa team in India)
Basics of AI – 11 September 2019 
Thus, students will get access to WiseCentral for both courses for 1 year from the date of enrollment. Official start date of the course is 15 August 2019. First batch of students will be directly trained by Amazon Alexa team on Alexa Skills during the inaugural workshop on 30 August 2019 at I²IT campus.
Registration Fees 7,500 INR for 1 year subscription for above mentioned 2 courses. Certificates will be issued at the end of the coursework.
Interested students and faculty members please register with below given form:
Last date for course registration & payment is 24 August 2019.
E- BANKING DETAILS:
A/C Name: International Institute of Information Technology
A/C No: 11072191009090
Bank Name:  Oriental Bank of Commerce
Branch: Hinjawadi Branch
MICR CODE: 411022011 IFSC CODE: ORBC0101107
For any further queries regarding online certification courses, email to
Frequently Asked Question:
https://wisecentral.freshdesk.com
WIselyWise Profile
At WiselyWise, our Vision is to enable a better Digital Future for Everyone.
We are committed to Solving the Twin Challenges of Employment & Employability by enabling Students' Transformation through Digital Skills Enablement starting with Artificial Intelligence (AI).
Our Founders are highly Experienced with combined 50+ years in Global Leaders: Dell EMC, Cognizant, IBM, Xerox. They have held Senior Leadership Positions – CTO for Dell EMC, Transformation Leader for IBM and CRM Practice Leader in Cognizant. Our Founder & CEO, Chandra Kumar is a Leading Keynote Speaker and Digital Transformation Mentor in Singapore, Advisor to Government Agencies.
Do you know that Our Flagship product WiseCentral – a Cloud based Online AI Education Platform, has an unmatched Success Record across some of the Best Universities, Educational Institutions, K-12 Schools globally? There is More than One Reason ….
First, Our Easy to Use Platform has specific Learning Paths with multiple Skill Oriented Courses that are derived from Our team's Real-World Experience in developing Solutions for Corporates. Second, Our Platform supports different Teaching modes – Online, Classroom, Flipped, Bootcamp, Workshops – that are highly Cost-Effective. Third, Courses are developed in line with the global curriculums of leading Universities using proven Learning Methods. Fourth, We ensure Our Education Partners find it Profitable & Easy to work with us while becoming Self-Sufficient with our Faculty Enablement programs. Fifth, We Focus on Community Building in Emerging Skill Areas to spur Innovation. Sixth, We are committed to launch new courses developed in Collaboration with Global Leaders including Amazon, UiPath thus ensuring our clients are always ahead. Seventh, We leverage our extensive connects in the Global ecosystem: Research Labs, Start-ups and Government, to bring together highly relevant Courses. And finally, Our Mission is to continue Investing in our Platform to create new Value-Adds for Students in the Long Run.
If you were wondering about Results? Moving Careers, Getting Jobs, Starting new Ventures, Winning Google Hackathons, Using their AI projects for successful application to Higher Studies in Global Universities – Our Student Alumni have done it all!
Research, Development, Consultancy and Collaboration (RDCC)Cell is an eminent wing of academics across the globe to churn out the various technological solutions for the betterment of quality of life. I²IT encourages and facilitates the environment to undertake sponsored and consultancy projects by its research team. RDCC Cell of I²IT intends to have collaborative research programmes in association with top research institutes in India and abroad. An interdisciplinary approach is encouraged to involve in different research and consultancy activities for the industries throughout the academic year. Since its very inception, I²IT has been striving to develop itself into an institution of excellence in education and research keeping in mind the contemporary and future needs of India of the highest standard in engineering and technology. With an innovative approach towards undertaking teaching and research activities, the Institute intends to rapidly gain reputation globally.
Research and Development activities are carried on in several diverse fields of engineering and technology including energy, environment, telecommunication, spatial data infrastructure and computation, etc.
Further, the recognition granted to Hope Foundation (Trust / Society) as a Scientific and Industrial Research Organization (SIRO) by the Department of Scientific and Industrial Research (DSIR), Ministry of Science & Technology, Government of India would definitely add value to the Research & Development activities of the Institute for undertaking various funded research projects.