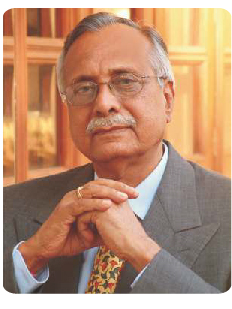 Late Shri Pralhad P. Chhabria
Founder President – Hope  Foundation and  Research  Centre
Founder Chairman – Finolex  Group of Companies
(12.03.1930 –  05.05.2016)
"I have  not gone,  just moved  on. Each morning  we are born again to work hard and live another beautiful journey."
Late Shri Pralhad  P Chhabria, Founder  President,  Hope Foundation and Research Centre (Hope Foundation) and Founder  Chairman, Finolex Group  of Companies has been  an  inspiration  to many.  Despite  having  received only primary education, with his ingenuity and  inventive business  strategies, Shri Chhabria established the Finolex Group of Companies in 1958 and over the years built it into a well-known conglomerate. He firmly believed that the future of our country depended on two critical aspects; quality education and women empowerment.
He has been  known for his philanthropic activities encompassing education, health  care,  religious and spiritual  teachings. Through  the  educational  divisions FAMT at Ratnagiri and  I²IT at Pune, he has established a number of scholarships, assistantships and cash awards for students who have displayed academic excellence but lack the financial opportunity to pursue their dreams.
Shri Chhabria often said,  "It is an irony that I never had the benefit of formal education, but can now be instrumental in providing  education to hundreds of deserving and underprivileged students. It gives me great satisfaction  that  my contribution  will leave  behind something  lasting   for  these   youngsters   and   for  the country.